Stainless steel railings are mainly used in private apart- ments, offices and shopping centers, public and industrial buildings. These railings are reliable and durable, do not require special care, look great in the interiors of different styles.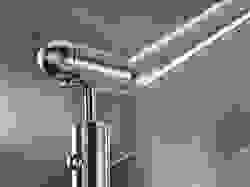 Stainless steelrailing coloring according to RAL system
We design, manufacture and install stainless steel stair railings. Construction companies may be offered to com- plete and manufacture fences without prior installation.
The following options are available:
Profile view: round, oval, square;
Option of filling the railing - vertical or horizontal;
Railing color - metal or paint in any color accordingto the RAL system;
Type of glass: tempered or laminated triplex.
Stainless Steel Enclosures for Stairs and Balconiesare reliable, have outstanding appearance and are low-maintenance. Installed in office complexes, shopping centers, industrial buildings or country houses.
Harwal Enterprises provides services for the design, manufacture and installation of stair railings and glass for fencing.